In the course of my doctoral field work in Nigeria about 6 years ago, I became privy to information that made me to start pitying a Nigerian Policeman as one of the oppressed rather than an oppressor. Ever since, I had intended to, but never did write, about the rot in regards to policing and the police in Nigeria until the recent brouhaha about the state of the Ikeja Police College made me put pen to paper.
This is a picture of the hostel of the trainees at the Nigerian Police Force (NPF) Training College in Ikeja, Lagos.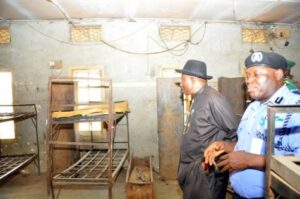 Will you put your dog in a room like this? I am sure the emphatic answer is No.
My initial thoughts were to opine that the blame for the rot in the NPF cannot be put at the doorstep of the Goodluck Ebele Azikwe Jonathan's administration – albeit every buck stops at GEJ's desk as our current President. As late Fela Anikulapo-Kuti would say, the decay (a minute reflection of the putrefaction in the larger Nigerian society) started "long, long, long, long time ago" even before the days of Tafa Balogun's acclaimed looting of police funds. I was going to pontificate that GEJ should only be held responsible if he does not reverse the de-humanising trend as well as bringing to book all those that contributed to man's inhumanity to man in our police training system.
Not until I heard President Jonathan castigate the press as purposely out to embarrass his administration through the feature report on Ikeja Police College. I became speechless (or writeless if there is such a word). Oro Pesi Je.
Did those words really come out of the mouth of the President and C-in-C of Nigeria?
How many Nigerians know that the clothes they see on the ubiquitous policeman (especially from the rank of Inspector downwards) are more often than not bought and sewed from the individual officer's meager salary?
When you see a policeman on official duty, uniform tattered and patched in many places, wearing not a boot but slippers made from disused vehicle tyres, have you ever wondered what happened to the annually budgeted millions that was meant to professionally clothe him as a respected image of law enforcement in Nigeria?
Have you ever visited a police barrack? What is your impression of the living condition of the officers and their family squashed into tiny little places?
As a "not too brilliant" student of Dipo Fasina aka Jingo's course on logic, is President Jonathan saying that he was part of the mess that the Police College became? If not, why would he feel embarrassed by the expose of a situation he is not responsible for?
President Jonathan should go to the British Police Training College in Hendon which I had the privilege of knowing about 17 years ago. I am sure the condition there has not only been maintained but facilities made even better to make trainees the envy of the "bloody civilians" in the main society.
If our policemen are being trained in an environment like the one depicted in the picture above and the Channels TV expose, do Nigerians have any justification for complaining about police inhumanity and brutality? It is impossible for someone who has been dehumanised and brutalised to behave in a contrary manner especially when in control of a gun (a weapon of terror).
If Nigeria really is a sane country, some people both past and present should by now be cooling their heels in some equally God forsaken jail in Nigeria similar to the Ikeja Police College room in the picture above.
Yet, my dear President neither raised the questions nor dealt with the critical concern in regards to all those who have had responsibility for Police Affairs in Nigeria for the last couple of years – Ministers and IGs. To what extent did they preside over the rot, and what efforts (if any) did they make to reverse the trend of events if not contributing to it?
President Jonathan is not God and is unable, in a sweeping glance, to see the length and breadth of Aso Rock to talk less of the whole of Nigeria.
As such, for one who professes to have a transformation agenda, one would expect gladness (and not sadness) that there are independent individuals and groups in Nigeria that would tell him the true front-line situation in contrast to all the sycophants surrounding him in government.
If we do not currently have learned people remarkably doing well in the political administration of Nigeria (people like Babatunde Raji Fasola SAN, Kayode Fayemi PhD, etc), I would have done a double retake on this fixation of ours that academic intellect translates to political leadership and diplomatic/administrative prowess.
Did I make a mistake in 2011 thinking a man with a PhD who has the antecedent of growing up without a shoe would become the beacon of light to a nation in darkness?
Did I lose or is someone else losing the plot?
follow me on Twitter @kunleoje